We're very excited about this one! Mostly because of the challenges and the maths involved.
A little background information:
Our client is an old friend of the Design Lab, in fact someone from college days. He had the idea, a few years ago, to create a website where people could go to see the effects of inflation on passed values. For instance, back in 1934 there was a reward on Bonnie and Clyde of $5,000. This doesn't seem very much by todays standards but in fact this is the equivalent to $82,000 in todays money.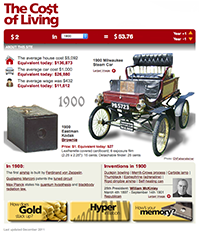 The client had already designed and produced a US version in MODX (a content management system) but it was hacked and eventually taken down by his ISP.
By this time it was showing its age and was out of date by three years. We aren't overly keen on CMS platforms as they can be just too complicated and over engineered – well, they have to be as they need to be 'all things to all men'. They contain thousands of unnecessary and unused files, so we suggested coding it from scratch.
This is where we came in…

The inflation figures are freely available on the internet and the client asked us to produce a UK version.
The first improvement we made was to the navigation system. In the clients original website selecting a year was a tedious affair – one long list of over 113 years! So we decided to create a menu in decades that made the process of selecting a year considerably more intuitive.
Then came the real brainteaser. The data supplied went back as far as 1900 and prior to 1970 pound, shillings and pennies were in use and then in 1970 decimalisation was introduced. We designed two Javascript calculators, one based on the old system of currency and the other for 'new money' as it was known back in the day. Then a small PHP function was used to select the correct calculator to use for the year required.